HELPING YOU UNDERSTAND FAMILY-BASED GREEN CARDS
Zohar Law Can Help You Keep Your Family Together
THE FAMILY-BASED GREEN CARD PROCESS
Keeping the family together is important, as demonstrated by this US immigration law that allows immediate family members to obtain a green card if another family law has one. US immigration law allows family members to obtain their green cards faster than other applicants. This is important if you are hoping to become a US citizen, as you must hold a green card first.
Zohar Law is an immigration lawyer in New York City. We help immigrants obtain legal status here in the United States, including helping with the family-based green card process. Immigration law in the United States can be complicated, so we're here to help you every step of the way. Contact us today to get started!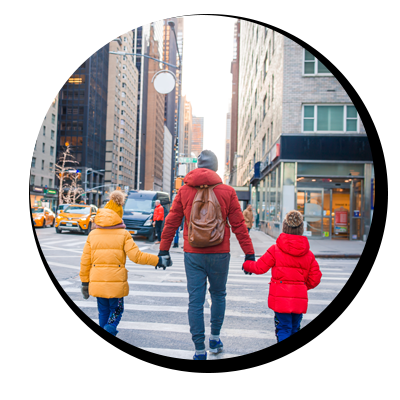 FEATURES OF THE FAMILY-BASED GREEN CARD IN THE UNITED STATES
Your educational background does not affect eligibility
Your work experience does not affect eligibility
Green cards can still be taken away if you misuse it, such as commit a crime
You can apply for US citizenship after having a green card for five years (three years if you are married to a US citizen)
Your spouse and children under the age of 21 may also be eligible for a green card if you are granted a family green card due to your relationship with someone else
Coming to the United States to live and work is the dream of many people. However, the process can be complicated without an employer sponsor or reason to immigrate. However, if you have a family member who is already living and/or working in the United States and who has a green card, the immigration process allows you priority over others. Zohar Law is a Top Rated Local® immigration lawyer in New York City who can help you through the green card application process.
WHAT IS A FAMILY-BASED GREEN CARD?
There are a variety of ways to obtain citizenship in this country. There is a lot of immigration information to know for this process, and there are a range of possible visas depending on your specific situation. In addition to all of this, it is possible to be eligible for legal permanent status through family members. Such availability of Family-Based Green Cards is in line with U.S. immigration law's emphasis on family unification. For those eligible to obtain legal permanent resident status, Zohar Law offers assistance with the legal processes and eligibility requirements. Many people are able to obtain Green Cards through family members already residing in the U.S. but need to meet one of several possible criteria in order to qualify. Some of the possible criteria are as follows.

IMMEDIATE RELATIVE OF U.S. CITIZEN
One of the most straightforward pathways to citizenship is through being an immediate relative of a U.S. citizen. What, exactly, qualifies as an immediate relative? This includes the following:
Spouses — this includes two individuals who are recognized as having a legal union such as marriage
Parents — this includes the parents of citizens only aged 21 or older
Children — children of legal citizens are eligible so long as they are under the age of 21
FAMILY MEMBER OF U.S. CITIZEN WHO FITS INTO PREFERENCE CATEGORY
Certain family members are eligible even if they are not considered immediate relatives. Eligibility of such a family members requires that they fall into what's known as preference category. Family members in preference categories must wait for an immigrant visa number to become available, which is determined based on the preference category into which they fall. Preferences include the following:
Unmarried children over the age of 21
Married children of any age
Brothers or sisters of U.S. citizens, aged 21 or older
FAMILY MEMBER OF A GREEN CARD HOLDER
It isn't only family members of current U.S. citizens who are eligible for legal status. Family members of Green Card holders are also able to qualify. Though eligibility here can be comparatively limited, these family members can include the following:
Spouses
Unmarried children of the sponsoring card holder
MEMBER OF A SPECIAL CATEGORY
Lastly, members of certain special categories can be also be eligible. Special categories include folks who don't necessarily fall into the previous categories but can still qualify due to special circumstances. Special categories can include the following:
K nonimmigrant, a V nonimmigrant—which allows for fiancés and spouses to stay in the U.S. while awaiting Green Card status
Widow(er) of a U.S. citizen
Person born to a foreign diplomat
IMMIGRATION INFORMATION WITH ZOHAR LAW FIRM
The legal team at Zohar Law Firm in Manhattan is proud to offer their services to people from all over the globe in obtaining legal status within the United States. To learn more about securing a Green Card or other pathways to citizenship, contact our immigration lawyers today in New York City. Our team conducts personal, confidential consultations, so we can get an understanding of your situation and which legal services might be best for you. Contact us today!
WE FOCUS ON ALL THINGS LEGAL
Immigration law and government policies regarding visas, the right to work and deportation.

DEPENDABLE
Backed by years of knowledge and experience, the immigration lawyers at Zohar Law Firm in Manhattan provides unparalleled legal services that protect the rights of those immigrating to this country. Find out what makes us the chosen firm of New York families.

SERVICES
Covering all matters of immigration law, including visa assignment, green cards and deportation, the legal team at Zohar Law firm in Manhattan is prepared to handle all immigration issues with creativity and personalized attention to best suit your needs.

OUR LOCATION
Operating out of the World Trade Center in New York City, the Zohar Law Firm welcomes those who look to become US citizens and those who prefer to work and live here. Within close proximity to the immigration building and courthouse in lower Manhattan, we support the highly-diversified population of the region with pride.

CONTACT US
From assistance with visa applications to help with deportation issues, our client-focused legal team is now taking new clients. Please contact us for a comprehensive legal consultation. We are the preferred team of immigration attorneys serving an international clientele.
Attorney Advertising Notice
Prior results do not guarantee a similar outcome.